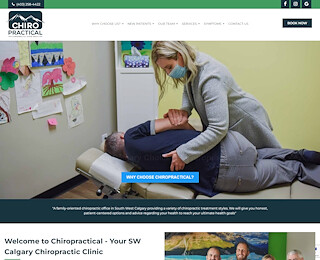 Chiropractical is here to help you ease needless suffering. As one of the top Calgary chiropractors, we take great pride in providing the best chiropractic care for your unique situation. Our qualified and highly skilled team of chiropractors can address different ailments through adjustments of the musculoskeletal and nervous systems to help restore your body's proper function.
Still need more information about our chiropractic services; here is what our highly trained and experienced chiropractor can do for you.
Adjusting Spinal Misalignments
Misalignment of the spine is also known as subluxation. Common ailments related to misalignment include whiplash, headaches, herniated discs, and joint problems. At Chiropractical, our chiropractors are trained to address these subluxations. We can help people suffering from pain associated with headaches by allowing better communication along the spinal column and restore balance to the body.
Decreasing Back Pain
Back pain, whether from a specific health incident like a herniated disc, whiplash or chronic pain, is a common ailment treated by a chiropractor. At Chiropractical, our experienced chiropractor will develop a non-invasive treatment plan to address the pain and the underlying issues. We'll focus on areas of inflammation and any muscle or joint tension. During your appointment, be sure to list all of the pain that you're experiencing to our chiropractor.
Addressing Everyday Wear And Tear
Participating in various physical activities can put pressure and strain on our bodies, commonly known as wear and tear. When a repetitive motion becomes an ailment, chiropractic treatment can address health issues related to overuse. Tennis elbow is a common ailment related to repetitive motions and overuse, leading to tenderness and pain. Chiropractors are trained to address whole-body health. Our chiropractor can address areas of misalignments and inflammation affecting nerve function and muscle tension. 
Treating Injuries
Injuries can let the body has experienced a trauma that may affect the spine's alignment. Injuries can affect the nervous system's ability to communicate from the brain to the rest of your body and put stress and strain on muscles. Chiropractic plays a vital role in treating injuries through spinal realignment and improving the nervous system's health and function. At Chiropractical, our chiropractor can treats various injuries, from auto accident injuries to sports injuries to injuries on the job. 
Improved Digestion
Chiropractic care can restore the nervous system's communication or the gut-brain connection with the digestive system's organs, tissues, and glands. Common digestive problems like constipation, food intolerances, and IBS—are often tied to increased inflammation, high-stress levels, a sedentary lifestyle, a poor diet, and poor posture. At Chiropractical, we can help manage disorders by using spinal manipulation therapy, soft tissue therapy, relaxation exercises, mobilizations, and stretches. 
Contact Chiropractical For Best Calgary Chiropractor
If you're looking for professional chiropractic treatment in Calgary AB, get in touch with the team at Chiropractical at 403-258-442 to book an appointment. Our trained chiropractors are on hand to help you with a wide range of issues, including neck and back pain, posture, muscle support, and much more.
Best Calgary Chiropractor